3rd place Blowers hand Wackers their first loss, 6-3.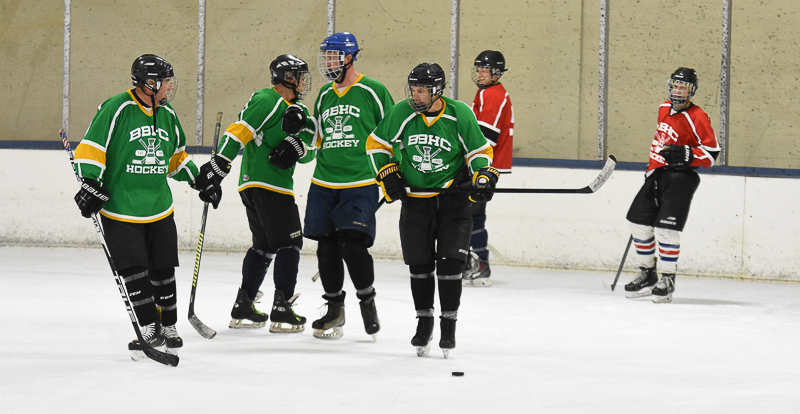 He's no Brian Leslie, but George Anderson donned the green jersey and they are now undefeated with him in the lineup.

"We needed a fill in for the concussed Steve Kaneb, and the league sent us George," said Don Fortini.

It turned out to be a good thing for the green team, as they handed red their first loss of the season here in week nine.

Speaking of Fortini, he was pressed into playing offense, and scored the first goal of the game.

"I'm not just a goon," he commneted.

Before the first ended a nice pass by Jon Morin was intercepted by JA for an easy tying goal.

In the 2nd the green team exploded for 4 goals. Steve Thompson scored 3 of his 4 and Tom Conway tacked on a single tally of his own, and this game was over.

A late arriving Pat Deskin and another by JA cut the lead to 5-2, but Thompson's 4th of the day accounted for the 6-3 final.

"We were missing some key guys today, and I think we asked Joe Surette to do too much," said captain Rick Breed.

An agiing Justin Fortini had another rough game in net subbing for the undefeated Ben Minsk.

"I know they were 8-0 coming into today, but I'm not impressed with that red team," said newly acquired George Anderson. "If I can keep playing my game, we'll roll over them in the playoffs too."


Check out our great new box score here.