Another Flinthead win, 3-1.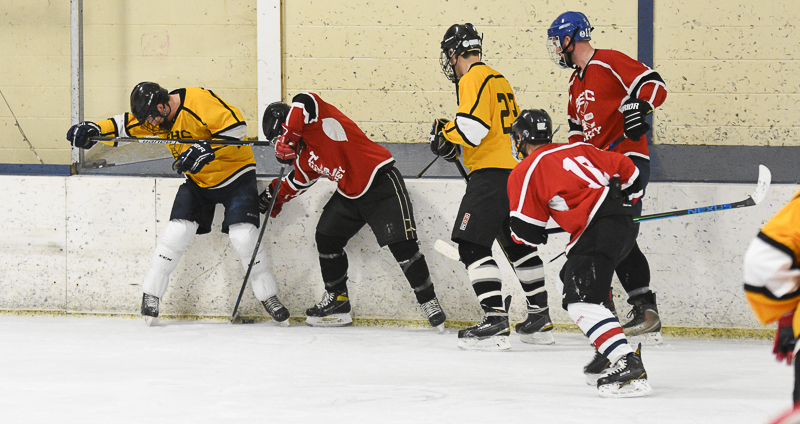 With both teams missing key players, Red hung on for a tough 3-1 victory over Yellow.

as the Flintheads moved to 7-0.

After falling behind 2-0, the Loggers got a goal from Jake Silk, and things were looking up for the last place gold team, only trailing by a goal.

"Let's stop looking for scraps from the other teams and try to win some games with the guys we drafted," said John Gambale via Skype before the game.



It stayed 2-1 for most of the game with both goalies, Rollie and Mike V, making some dandy saves.




The Loggers kept within a goal until the final minutes of the game when Rick Breed cashed in with his 2nd goal and 7th point of the season for a 3-1 red lead.

"Just follow me boys," said Captain Rick doing his Moses impression, which actually makes sense because Rick walked with him back in the dessert. Though it's not been quite 40 years since his last title.

The gold team never found any magic and would fall to 1-6, good enough for 4th place.

"At this rate, I don't see us getting home ice advantage in the playoffs," said Derek Osbahr.

"I like the team," said red goalie Mike Vieira. "Though I still don't know who the heck our first round pick is."

This week it was Jon Morins turn to protest playing D as he fell all by himself retrieving a puck that was dumped in.

"Be careful, its slippery out there," said a sure footed Billy O.

Speaking of Billy, his trade of Chris Caruso for nothing hasn't panned out the way he planned.

"Supposedly we got Lloyd but Armand didnt tell Lloyd what time our game was," said Billy.

Check out our great new box score here.