Red Flintheads jam the Loggers, 7-5.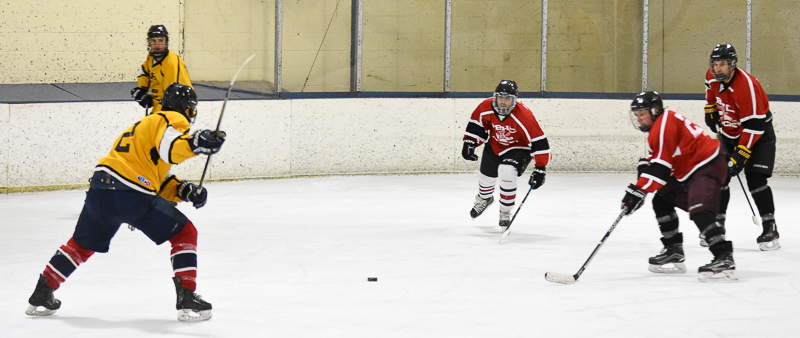 It took 7 goals to get Mike Vieira the win, but by golly they got the win.

The Red team kept their streak going as they played another team that was missing guys again. This time it was Yellow who were missing two defenseman. Rick Bobrycki and newly traded for Lloyd Johnston were both headed to Ottawa for some of the free food at the convoy.

Billy "Big Toe" Osbahr made the sacrifice to go back on D but even he didn't want to and as a protest he fell down all by himself at the point. (See I told you nobody saw it)

With nobody else volunteering to play defense, he punished the team by putting Derek Osbahr back.

"If nobody will step up, then I'm putting our best scorer on defense," said Bill Osbahr in a bold move.

That proved to be a bad move for both the offense and the defense. Red ended up winning 7-5.

Kramer put his team on his back and led a desperate comeback from Yellow, but not even Mikey V. is gonna lose when you score 7.

"Someone has to do the job for this team," said Kramer.

Mike Viera made a game winning save off a Deskin wrister from the slot to preserve the win and Steve Thompson got an empty netter to seal the victory.

Tom Conway had a hell of a game scoring the hat trick and had some nice backchecking breakups on the defensive end.

"That guy has a future in this league," said veteran Captain Rick Breed. "Most likely on Rick Armand's team."
Check out our great new box score here.