Fuji and Cheerios barely hang on for 6-4 win.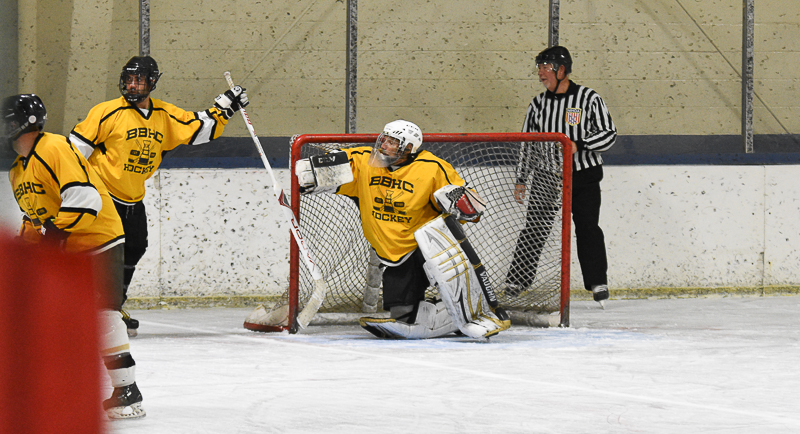 Apple Jacks and Cheerios got at it this morning with Apple Jacks getting off to a sugary start scoring on their first two shots.

"Fuji likes to get the first two out of the way early," said Mark Defilippis who got one of the two back helping Cheerios get a 6-4 victory.

Someone in the Cheerios locker room said we have to "skate like the wind today," but Jimmy D said, "I like to skate like a cool breeze".

Cheech and Chong refer to that as a foggy haze but Jimmy did race up the ice glacier smooth while carrying the puck this morning. Yellow made a big trade getting Al Pederson and Chris Caruso in their first games of the season.

"I can't believe I got these guys for nothing," said Billy Osbhar.

After goals by Nichol and Deskin put green up 2-0, Mark D. and Chewie tied it for gold, and the game was at a critical fork in the road. After Fuji made a save on Deskin and Gambale, Derek Osbahr grabbed the puck in the crease, and one of the league's top officials saw it, and called for the penalty shot.

"Gambale you take it, I don't need that kind of pressure," said Deskin.

On the penalty shot, Fuji fell down and Gambale shot the puck right into him.

"I've never taken a penalty shot before," said Gambale. "I was looking for someone to pass to."

This was the turning point and the spark the Cheerios needed.

"To be honest, any Fuji save is a spark for us," noted Andy Long.

Cheerios ripped off 3 straight goals to take a 5-2 lead.

"They only got 9 guys, and 3 of them are Gambale, Kaneb, and Onello," said Bobrycki. "We should be creaming these guys."

Apple Jacks battled back though, with goals by Luke S. and then by the forementioned Gambale with just 1:35 to play. Derek Osbahr got the redeemer by scoring in to the empty net with 45 seconds to play.

"I thought we played well," said Onello. "And Fortini did a great job for us in net. He's as ever bit as good as Fuji is."

The win moves Cheerios into first place all by themselves.

Check out our great new box score here.