Late Blowers comeback falls a tad short, 3-2 Grinders.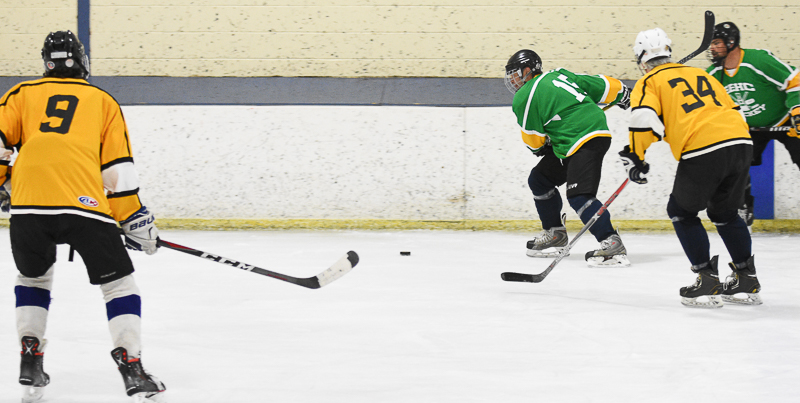 The Stump Grinders methodically grinded out a 3-0 lead, but blew the Vieira shutout and nearly the game.

It was the middle of the pack in the south rink, and they played a mediocre game.

Gold ran out to a 3-0 lead, scoring once in each period. Andy Long spoonfed Melto for a first period goal. Sean Steigerwald and the post combined for a 2nd period goal. And in the third period it was Chris Caruso, who was playing defense at the time, was in front of the net and tipped home a Melito shot for a 3-0 lead with 7:00 to play.

Just when you thought it was over, Jim Wilkinson was set up by Steve Thompson and green was on the board with 3:44 left. A minute later the DA cashed in with a powerplay goal and holy cow it was 3-2 with still 2:44 to play.

That's where the Leaf Blower ran out of gas. There was no end of game magic here, though they did prevent Mike Vieira from getting shutotu, which he deserved.

These two teams should meet in round one of the playoffs, barrying any Brian Leslie style acquisitions late in the season.

Check out our great new box score here.