Cheerios get a point and take first place, 4-4.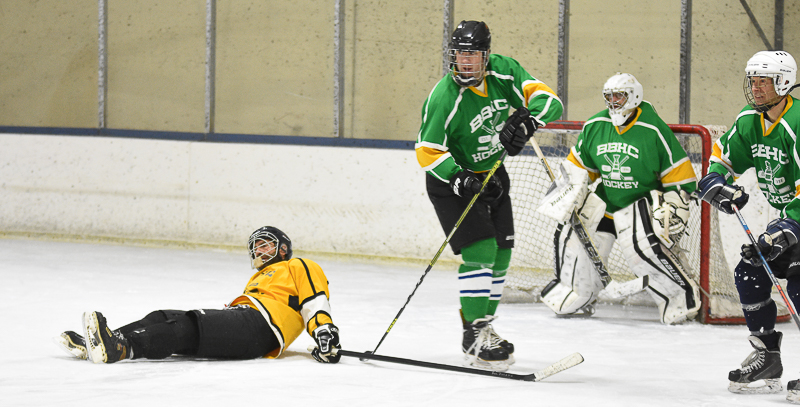 We're not sure why the last place team poses such a threat to the gold team, but the Cheerios got a tie and that one point was good enough for first place after going to the 5th tie breaker scenario...

What a game this morning between Green and Gold. It was such a good game that neither team wanted to win it as they played to a 4-4 tie.

The top goalies in the league went at it as Greens Viera stole a point for his team, being the star of the game and Golds' Fuji gets his team in first place by virtue of having a better GAA than Red.

"I'm like a fine wine," said Fuji.

"Yeah," said Bob Powell, "You're all fermented and your grapes have been stomped."

Gold got two goals each from Derek Osbahr and Chris "McDavid" Caruso.

"I'm so much better than Dustin," said Caruso.

For Green it was .... Birthday Boy John Gambale, who had a solid game with one assist.

"For my Birthday Tony let me play a shift in the third period," said John. "I told him to never do that again."

Fortini had a goal for green that nobody wanted to claim, so it stayed with Fortini.

"I don't think I scored it," said Fortini who later got hurt during a line change.

Onello and Deskin had second period goals, and Sean Steigerwald had the game tying goal with 1:09 left.

Needing a win gold pulled the goalie in the tie game, but it went to OT. Nobody scored in OT because Vieira was awesome. Gold still takes first place with this point and these two teams will meet in the playoffs.

"I'm worried about our chances, especially if our whole team shows up again," said Rick Bobrycki.

Check out our great new box score here.