New sheriff in town as Flintheads finally fall.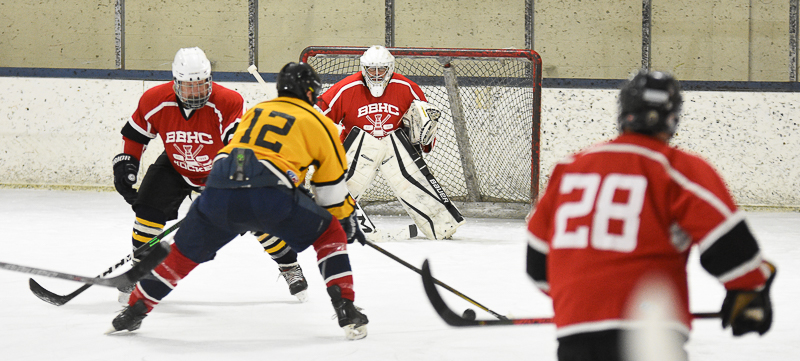 The red team used to be the best team in the league, now, the gold team is the team to beat.

Like the Patriots 2007 season, the all you can eat buffet at the Kowloon and the combat zone, all good things must come to an end. The Red teams undefeated season is no more as the yellow team beat them 6-4.

Yellow has gone undefeated since they picked up Bob Powell.

"That guy guy is a difference maker," said Substitute Captain Pat Deskin, "As soon as he starts playing we are going to notice a difference."

Yellow jumped out to a 2-0 lead on goals by late season pickup Brian Leslie and Derek Osbahr. But Red got right back in it scoring two late first period goals by Steve Thompson and Brandon Poulin.

In the second Derek scored one of the most flukyest goals in BBHC history as his dump in along the side glass hit a stanchion, richocheted to the crease, hit Mikey V's pad and went in the net.

Red couldn't recover as yellow got the next three to make it 6-2. A late rally by Red, with two goals from Steve Thompson wasnt enough for the 6-4 final.

"It's not the worst goal I've ever seen Mikey V. let in, but it was the funniest," said Andy Long.

Red still clinches first place, no matter what happens next week and will play the lowly navy team.

Gold takes second and will take on green in the playoffs.

"I think we'll see this team in the finals," said Dan McCarthy. "Those two other teams really stink."

Check out our great new box score here.