Not so grrrrreat for Frosted Flakes in 6-4 loss.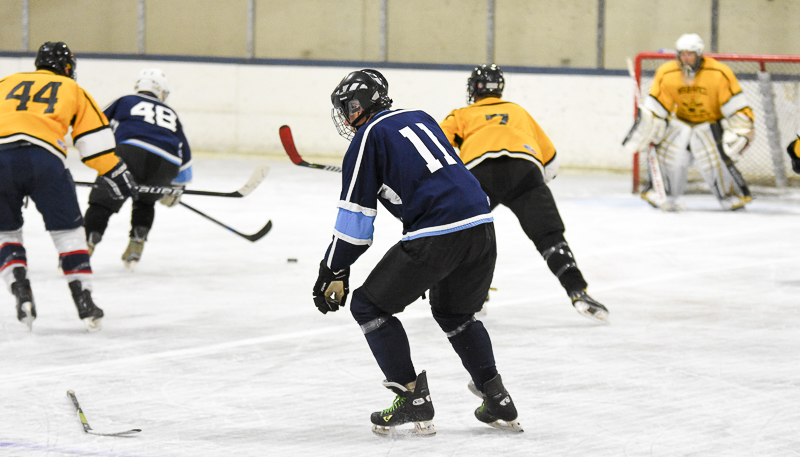 The Flakes were swept in the home and home series by the Cheerios, and now the Flakes are destined for a 3rd or 4th place finish.

What do you do when your team is playing bad?

You add another Armand to the team. This week Jeremy Armand suited up for the navy team after they jettisoned season veteran John Ragucci to the first place Fruit Loops.

The game started off right for the navy team as the DA and Princess Teal scored for a 2-0 lead.

"Not the guys that should be scoring, but we'll take it," said Rick Armand.

Cheerios shot back with goals from Derek Osbahr and Tom Conway for a 2-2 tie after one.

In the 2nd, Dustin Silk and Osbahr both scored as the yellow team went up 4-2. The whole time we were wondering if Raimo was wearing Cormican's number.

It wasn't until Cormican had missed a clean breakaway did we realize it was indeed him and not Raimo.

Rick Armand picked up a stray goal in the 2nd to cut the lead to 4-3. Then in the third, Jeremy Armand scoerd to tie the game at 4-4. When he asked if he wanted the puck for his first goal, he replied, "No, I'll be getting more,"

A true Armand.

The last laugh would go to the Osbahrs, as Derek scored his 3rd of the game on a nasty short side snipe. Cormican finally got off the schnide, tacking on an insurance goal for the 6-4 final.

The Flakes have wrapped up a 3rd or 4th place finish with this loss.

"Are we really tied with an Onello team for last place," asked Mark Wood. "That is embarrassing."


Check out our great new box score here.