PBR doubles up OM, 6-3.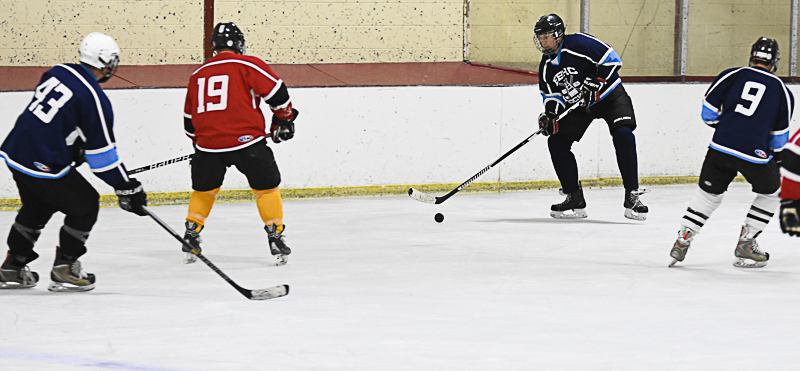 Old Milwaukee is having a rebuilding year, with Joe Surette learning the ropes on defense.

"Since Jon Morin took me under his wing, and showed me how to play defense, especially in the offensive zone, I've seen an improvement in my play," said Surette. "I especially like the double Bulldog."

For PBR, they welcomed a new player to the team, as Eric Grasso was brought in to shore up the lines.

"We had too many guys that could skate real well and score goals," explained Andy Long. "So we needed a role player, you know, one of those utility players like Steve Hardy."

"I hope I can help the team and maybe even get a T-shirt out of the deal," said Eric.

PBR was without Al Peterson and Steve Kaneb. Kaenb actually showed up, but without his gear. His solution, go out and buy ice cream for the team. Folks, you can't make this stuff up.

Apparently the ice cream hit the spot for Marc Jumbone Teal, who was backchecking like he was shot out of a cannon.

"Popeye has spinach, I have ice cream," explained Teal.

His best play coming on Jack Gavin, when Gavin had skated by a charging Rollie Graham at the blue line. Before Gavin could put the puck into the open net, Teal got back and forced the puck into the corner.

"Marc Teal made the play of the year in this man's opinion," said Andy Long. "Twenty feet behind Jack Gavin at the red line, Rollie raced Jack to play a loose puck at the blue line. Of course Rollie lost that race but Marc caught up to Jack and knocked him off the puck to thwart Jack of an empty net goal. To see that hustle from a guy nobody wanted at the draft, makes me proud. That's what it means to be a Pabst Blue Ribbon."

"I had no idea it was Teal," said Gavin. "I though it was DeFelippis taking the puck off my stick again."

As far as the scoring went, after a scoreless first, Morin put OM up 1-0 with a shot from the point. PBR countered with goals by new comer Grasso and Mark Melito.

PBR would outscore OM 4-2 in the third, getting a hat trick from Melito and a goal and two assists from Mark Kramer when all was said and done.

Steve Kaneb also gets a gold star for his contribution. Steve forgot something when he left the house Friday morning (ok, it was his hockey bag?). But Steve didn't want to let his teammates down so he raced to work, picked up some Hoodsie Cups and the boys celebrated the victory with some Strawberry and Chocolate ice cream in the locker room after the game.

"Wow, you guys know how to celebrate a victory" said newcomer Grasso who had ice cream running down his chin.

"Its not like this every week" said a chocolate covered Steve Hardy, "But it should be."

PBR is now 7-1 and have all but clinched the top seed.



ALL GAME PHOTOS HERE
Check out our great new box score here.