Neither team wins, 3-3 tie.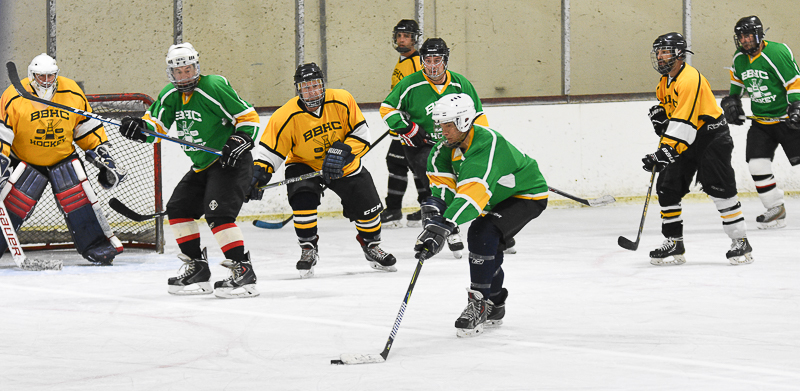 This had all the action of washing your car, and none of the drama of the south rink, or as one person put it, "This one had about as much excitement as a fart in a phone booth."

"What's a phone booth?" ask JA Ambrosino.

Both teams were playing short as Greens Morin & Thompson, and Yellows Raimo & Andrusin all slept in.

"We see that as a player wash," said Greens Steve Hardy.

Yellow had a tough start to the season, but has rebounded here in mid season. After giving up a goal to George Anderson just 30 seconds in, they shot back with goals from Silk and the younger Ambrosino to take a 2-1 lead into the middle period.

Here Andy Long made it 3-1 and it was turning into a laugher.

"Never underestimate our team," said Long.

In the third yellow predictably collapsed. Goals in the final six minutes by a kinder and gentler Steve Hardy and Jim Wilkinson tied the game at threes.

In overtime not much happened and the game ended in a tie.

In regulation JA got stopped by Ben on a breakaway and Dustin was as smooth as stucco as he had a lot of shot attempts but ended up going 1 for 20 on the day. "Just not my day" said Silk.

Despite improving, yellow is still in last place.


ALL GAME PHOTOS HERE
Check out our great new box score here.