Eagles fly 8-3.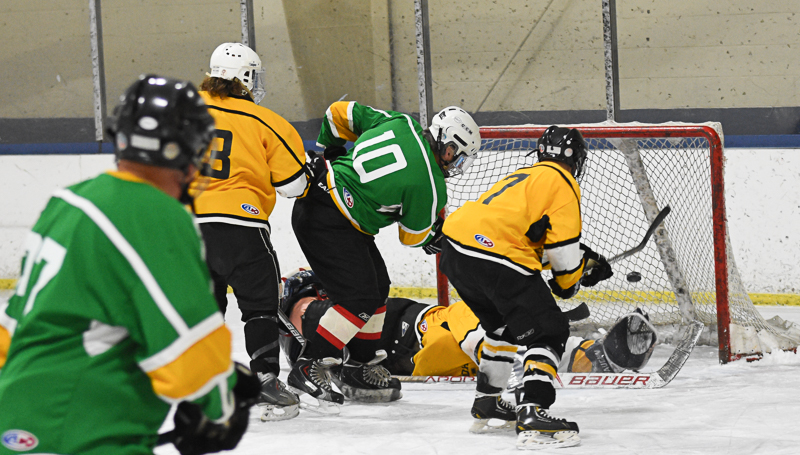 John Gambale may be headed to the last place red team, as he once again led the green team to a win on Friday morning.

"Frankly, we just have too many 'good' guys," said Eagles captain Rick Armand.

After a timely loss last week, the Eagles are back on the winning track, taking an 8-3 nailbiter from the gold Hornets.

Joe Smith would score 2 in the first for the gold team as they briefly led. But 4 goals in the 2nd and 4 more in the third, the Eagles would fly away with this one.

Smith notched the hat trick for the losing team in the third, completing the hat trick and accounting for all of the gold goal.s

"I did my part," explained Smith.

The game ended in a Disney like fashion, with Jake getting a penalty shot as time expired.

"I'm glad the refs made the right call and gave Jake a penalty shot but he didn't have to kick the puck up to his stick, do a spin-o-rama at the blue line and beat the goalie with no time left. What a jerk." said Brother Luke.

"After Fuji gave up a goal on the first shot on net I knew I had to do something", said eventual goal scorer John Gambale.

"Don't trade Gambale, trade me," said Andy Long. "There are so many good players on this team, not even a guy like me is getting ice time. I want to be on a team that I can contribute to."


ALL GAME PHOTOS HERE
Check out our great new box score here.