A dirty tie between green and navy, 3-3.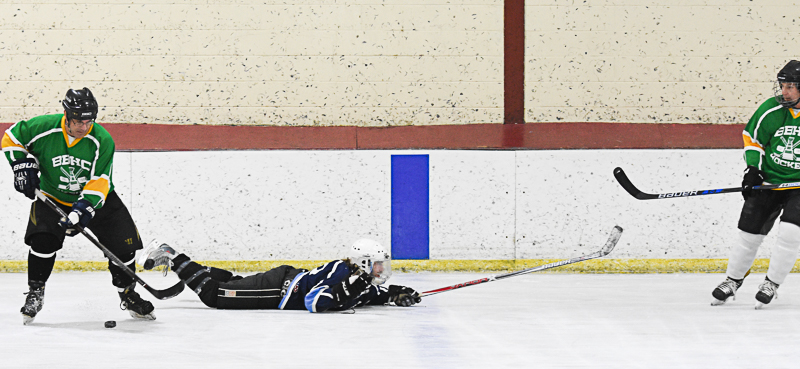 The two teams played a filthy game, that could not be decided. Kinda fitting.

These two teams are as even as they are dirty. Last week it was a 4-3 final, this week a 3-3 tie, and both teams are now 3-3-1 with 7 points.

It started with early penalties, and that continued into the late stages of the game. There were 5 penalties called, but just one PPG.

Jason Kellogg worked a nifty 2 on 1 with the lesser Breed for a 1-0 navy lead. Before the period ended Jon Morin would score a goal and pick up a penalty for a 1-1 tie.

The teams traded goals in the 2nd as Steve Thompson was on the back end of some nice passing by George Anderson and Scott Onello for the green team, and then with one second left in the middle period Richard Breed scored on the powerplay when he banked a shot in from behind the goal line.

In the third Melito won an offensive zone draw back to Al Peterson, whose shot was tipped in by accident by Todd Nichol in front. But before that goal even posted on the scoreboard, and angry Morin raced up the ice to tie it at 3-3.

Each team had a powerplay but failed to score down the stretch, and OT was about as entertaining as one of Eric Grasso's post game stories at the breakfast table.


ALL GAME PHOTOS CAN BE SEEN HERE

Check out our great new box score here.