PBR skates by Old Milwaukee, 4-2.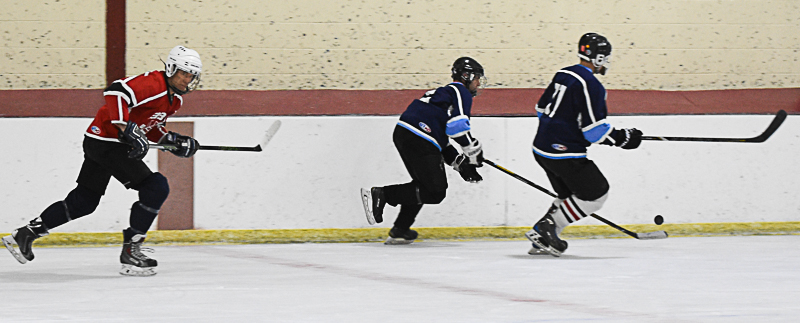 The red team was flat. Very flat.

Last week the navy team doubled up red 8-4, this week they doubled them up again and remain perfect at 4-0.

PBR got on the board first when Andy Long won a rare faceoff. The puck went back to Steve Hardy who shut his eyes and let one fly that found the net.

In the 2nd, with Hardy in the box, Marc Teal and Rob Chiulli combined for a shorty and a 2-0 lead. Two minutes later George Howard would get set up with a wide open net for a 3-0 lead.

Jon Morin faked out Hardy at center and went in to finally get red on the board. But you're only gonna walk around the Bitch so many times in a game.

Mark Melito cashed in late in the 2nd to put it out of range at 4-1.

Trevor Legere got the only goal of the third, when he got 4 or 5 whacks at the puck in front before it finally went in.

"Those were 4 to 5 easy saves, Rollie has to make all of them," said Hardy.

PBR improves to 4-0 and has scored a whopping 24 goals in 4 games.

ALL GAME PHOTOS HERE
Check out our great new box score here.