Liberty falls to Communists, 4-3.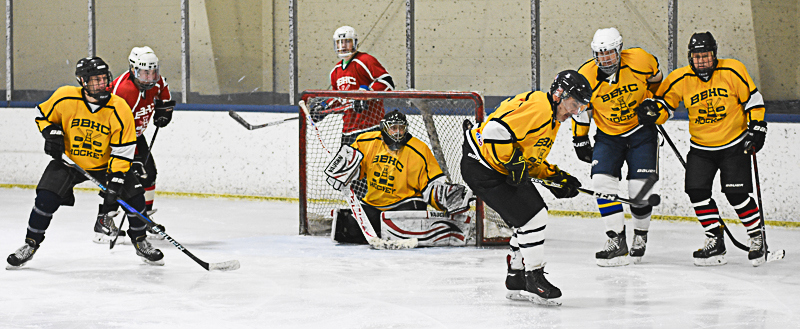 A pair of goals in the 2nd period was enough to get the red Communists a 4-3 win on Friday.

The Big Red Machine improved to 2-0 with that win, handing the Libs their first loss of the season. Gold actually had a 2-1 lead in the first thanks to goals from Tom the Wizard Zargaj, and New Guy Blaine Bisegna. Two unlikely scoring sources.

"What next, is Bob Powell gonna score again?" asked Rick Armand.

The 2nd period though was a different tail. Two C players scored for the red team as Gambale and Aizanman put the Communists up 3-2.

"I thought my goal was huge," said Gambale.

In the third red went up 4-2 when Al Peterson scored when a seeing eye shot with his eyes shut.

"I heard someone say shoot, so I did," explained Peterson.

The Wizard tacked on a late goal for Gold, but they would fall a goal short.



See all photos for this game here.
Check out our great new box score here.