Boston Whaler hangs on for 4-3 win.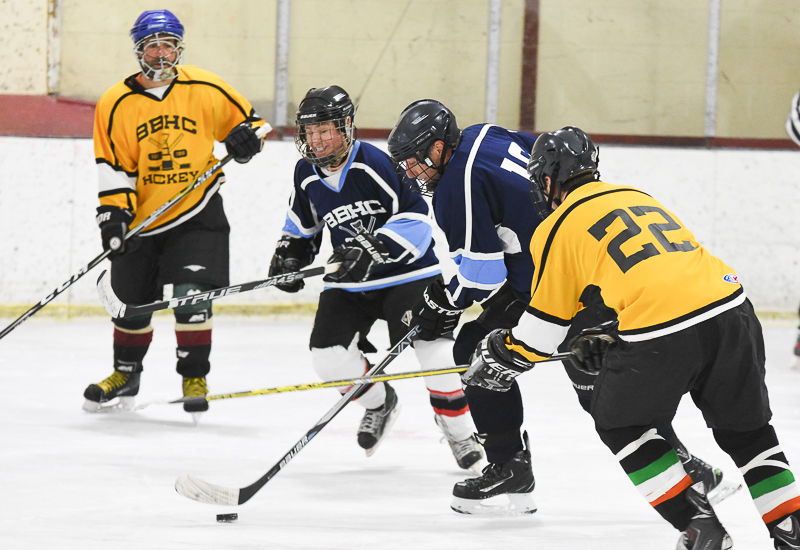 The navy team ran out to a 4-0 lead, but then nearly blew it trying to get Marc Teal a hat trick.

If you had Marc Teal marked down for scoring the first two goals of the summer season, then you probably money down on Vegas to win the Stanley Cup before the season started too.

So yeah Marc Teal had the navy Whalers up 2-0 before Andy Long had turned the puck over once.

In the 2nd Todd Nichol did not kick the puck in the net, and it was now 3-0 navy.

In the 3rd it was more from the navy team, as Brian Leslie tipped one in for a 4-0 lead.

"Way to go boys, now let's get Marc Teal his hat trick to really rub it in," said Richard Breed.

So that's what the Boston Whaler team did. But perhaps they tried too hard. Too many good players gave up the shot to try and set up Jumbone for his third.

Meanwhile the gold Chris Craft team slipped back in the game. Dustin Silk scored a pair to cut the lead to 4-2. Then with 20 seconds left, he cut the lead to just one, but that's when the groceries ran out.

Navy hangs on for the 4-3 win.

"It must be nice to have a player that can finish the hat trick," said Tripp Talbot.



See all photos for this game here.
Check out our great new box score here.