All business again for PBR in 6-4 win.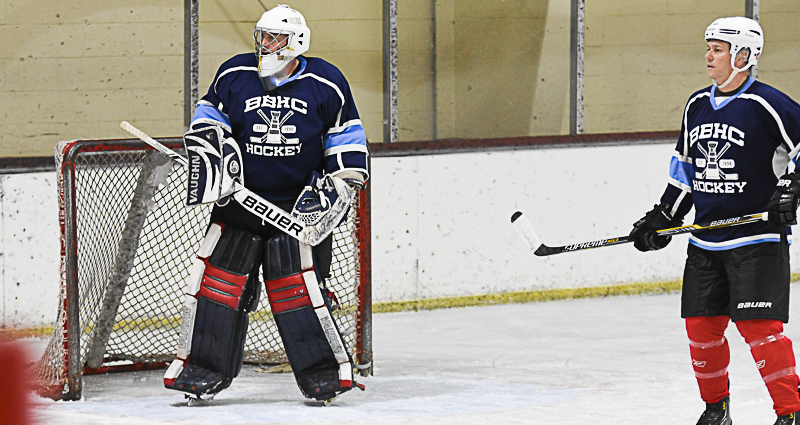 The first place PBR team had the first seed wrapped up long ago, while Andy Long was still acting captain in fact.

This week they just went through the motions again with a lazy 6-4 win over Schlitz.

Melito was a man amongst boys on this day, scoring, passing, assisting, and backchecking at will. Wearing the number 4, just made it all more surreal.

Things were going so well that he made regular passes to George Howard and Jake Steigerwald.

He scored to make it 1-0 before all the skaters were even dressed. But a nice shot from behind by Brian Armand, would hit an unsuspecting Bill Osbahr in the skate and go in behind Rollie to tie it.

A blast from the slot by Steve Hardy made it 2-1, then with 33 seconds left in the first Rob Chewie scored from the point to make it 3-1. However the navy team countered with 17 seconds left in the first when Osbahr scored a real one, and it was 3-2 after one.

"Look, we have only three D today, luckily you're playing with two of the best in the league," said Osbahr to Mark Wood. "I need you to show Leslie and Fortini that you can do the small amount we're asking of you."

"I think I'm doing my job fine," replied Wood. "I got all the water bottles filled, the door's been open for them every time, and I'm giving the puck to you every time I get it just like you asked."

That apparently sparked something for the gold team, as Trevor and Brian Armand worked a perfect tic tac toe with Steve Thomson for the tying goal early in the 2nd.

'It's nice to see Trevor working through some bad hockey genes and getting involved in the play," said John Gambale.

Late in the 2nd Al Peterson cruised through the slot and found a loose puck, and not only got it on net, he got it in the net for a 4-3 PBR lead.

That gave Al 9 points on the season, and unofficially 4th in defensemen scoring.

"I just said to myself, 'what would Steve Hardy do' and I did that," explained Peterson.

But again PBR blew the lead. For the third time in the game Schlitz scored to tie it, as Thomson scored his 2nd of the game 1:38 into period three.

That's when the gas ran out on the gold team. A steal by a tired Jake Steigerwald and snapshot goal would be the game winner with 13:55 to play. Marc Teal tapped home a Melito pass with10:55 to play for an insurance goal and that was that.

Six different scorers on the six goals, that's how good these guys are.

PBR has clinched the first playoff seed and now has two games left to get Melito the scoring title.



ALL GAME PHOTOS HERE
Check out our great new box score here